I guess I should be keeping up with my blog reading because I've just found out my good friend
Cathy
nominated me for the KickAss Blogger Award.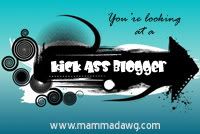 And from my previous post, you can totally tell I needed some love this week!
As with any "Bloggy Award" there are some rules...
- Choose 5 other bloggers that you feel are "Kick Ass Bloggers"
- Let them know that they have received an award
- Link back to both the person who awarded you and also
Mamma Dawg
, where the awards originated
- Visit the Kick Ass Blogger Club HQ , to get codes click
here
and it will take you to KABC HQ, sign Mr. Linky then pass it on!
I'm sure you know there are lots of Kick Ass bloggers out there. Quite a few of my faves have all ready been nominated and since we all have kick ass blogs, I really can't single out any five.
So, if you read this blog regularly (you know who you are), feel free to pick up the award. You don't even have to be a regular commenter... but I do love comments.
You all rock and you all deserve the award... no matter how long you've been blogging...