I'm entering a contest.
Amy over at
Crunchy Domestic Goddess
(and a Maya's Mom friend) is having a contest on her blog. She's promoting her new on line store
Cute As A Bug
. She's got some cute little t-shirts and such over there for little people as well as big.
I liked this one: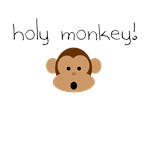 I don't know why, I just thought it was cute!
Anyway, to enter, I need to tell you about it -- mention and link to her blog/post and new store in my blog and let her know.
The little designs she as are really cute and well worth a look!
Go on over! You now you want to!